Cristiano Ronaldo has been hit with a five-game ban after shoving referee Ricardo de Burgos Bengoetxea. Ronaldo had just been dismissed during the Supercopa de Espana final first leg when he laid hands on the official.
Here, we look at six notable red cards from the Portugal international's career.
January 14, 2006, v Manchester City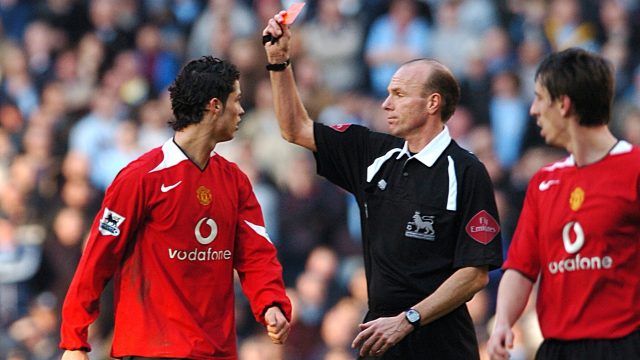 After seeing a first career dismissal overturned in 2004, there was no getting away next time he saw red for Manchester United, during a bad-tempered derby defeat. Having just been on the wrong end of a rough challenge from Stephen Jordan, he launched into an ugly, studs-up lunge at Andy Cole. Sir Alex Ferguson described it as "more rash than vicious" but Steve Bennett's decision was sound.
August 15, 2007 v Portsmouth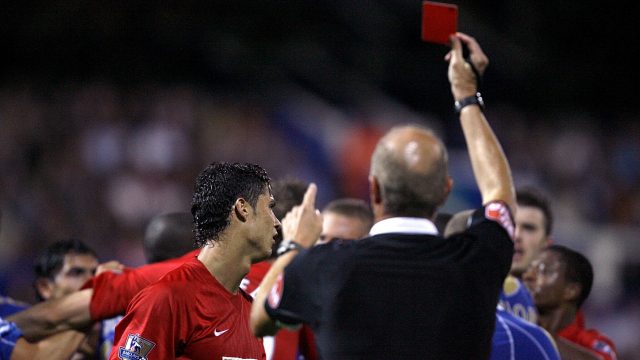 Bennett and Ronaldo crossed paths again at Fratton Park and it led to another early bath for the United winger. "He was provoked and he fell for it," reported an unhappy Ferguson, but Ronaldo's apparent headbutt in the direction of Pompey substitute Richard Hughes was comfortably worthy of its three-game ban for violent conduct.
November 30, 2008 v Manchester City
A second derby-day dismissal and a thoroughly bizarre addition to the list. A regulation booking for a foul on Shaun Wright-Phillips saw Ronaldo sarcastically applaud Howard Webb's decision – hardly the most conciliatory course of action. Later in the game, the Portuguese leapt to meet a Wayne Rooney corner and bizarrely opted to deflect the ball with both hands when a header would have been just as easy. On this occasion, Ferguson claimed he was defending his face and received a push in the back.
December 5, 2009 v Almeria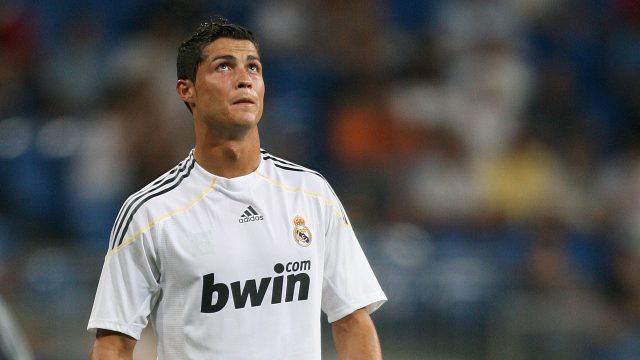 "I am human and I made a mistake," he offered after his first sending off in Real Madrid colours. His fallibility was fully on show at the Bernabeu that day, with a missed penalty to go with bookings for removing his shirt while celebrating a goal and lashing out at Juanma Ortiz.
January 24, 2010 v Malaga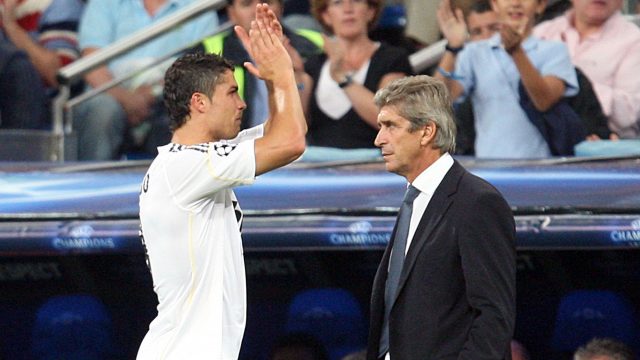 Patrick Mtiliga was left with a broken nose after an aerial tussle left the defender floored and Ronaldo heading for an early exit. An apology was forthcoming afterwards, but so was a less-than-gallant observation "if he had been taller I'd have struck his chest".
May 2013, 2013 v Atletico Madrid
The Copa del Rey final between the Madrid rivals was a bitter affair, with 14 bookings in all and on-field antipathy spilling on to the sidelines on several occasions. Ronaldo was sent off in extra-time when Atletico captain Gabi fell theatrically having apparently been on the wrong end of a flailing Ronaldo boot. Contact did not appear to be made but the decision was already made.