The Prince of Wales has offered to help ensure families and business owners in Northern Ireland hit by the summer's flash floods do not get penalised by insurance companies.
He flew into the north west of the region on Friday to offer his support to those caught up in August's deluge.
Homes were flooded, cars washed into rivers and infrastructure badly damaged in the sustained downpour.
Charles called into Eglinton Community Centre on the outskirts of Derry to meet local residents – some of whom remain in temporary housing.
Paul Miller, who owns a local shop, said he and other local business owners told Charles they were worried about the implications the flooding could have on insurance.
He said: "We said to the Prince, insurance companies have walked away from us and they seem to be getting away with it. He said he knows just the person to ring and he'll look into it for us."
Mr Miller added: "I asked him to come to the pub with us after, for a pint. But I don't know if he will."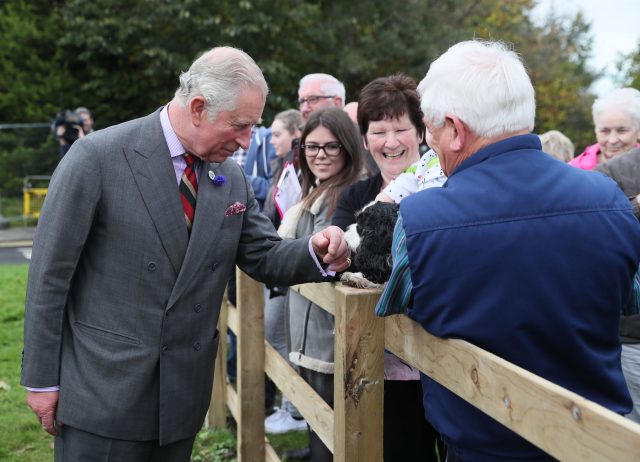 On arrival in Eglinton, Charles looked at a display of photographs taken in the immediate aftermath of the flooding, showing homes ruined and businesses destroyed.
Gladys McElhatton, a local resident who has been unable to return to her home, said: "Prince Charles was so lovely. He came over and shook all our hands.
"It's great that he came here and that it shows he's still thinking about us and what happened to us with the flooding."
The Prince also visited the YMCA Londonderry at Drumahoe where he met members of the farming community, volunteers, emergency services and officials assisting with clean-up efforts.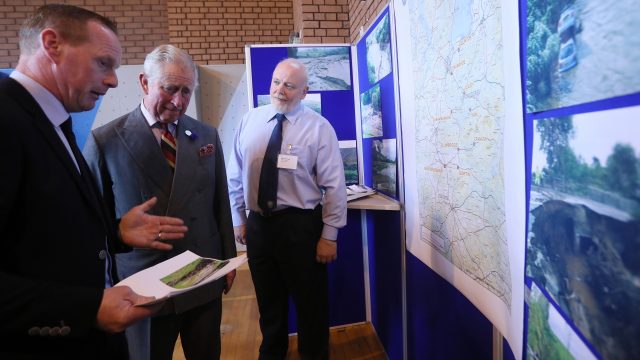 He was charmed by 11 week-old Lyla Hempton who was just three weeks old when the floods destroyed her parent's poultry farm.
Her mother Nicola Hempton said: "All the chickens were killed and the houses damaged. We are having to rebuild everything.
"We are still waiting for insurance. Until then we can't rebuild."
She added: "Prince Charles asked about the baby and about what happened with the chickens. It was lovely to meet him. It was very good of him to come."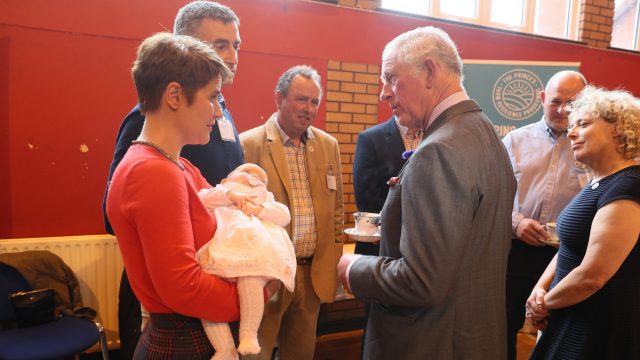 The Prince, who enjoys fishing, was presented with some fully dressed salmon flies and shrimp patterns as a thank you for his support.
Charles had cleared his diary for the day to travel to the region after hearing many homes and businesses were still struggling with repairs.
The Mayor of Derry however refused to meet him during the visit.
Sinn Fein's Maoliosa McHugh said he would not meet the Prince due to his role as Colonel-in-Chief of the Parachute Regiment.
The large storms hit Northern Ireland on August 22, with 63% of the area's average rainfall for that month falling within a nine-hour period.
The resulting floods left 120 people in need of rescue and damaged 510 properties.
Communities across the border in Co Donegal were also badly affected by the flooding.